Beauty Focus Collagen+ is an innovative beauty supplement enriched with a unique blend of collagen hydrolyzate, wheat oil extract and lutein. The many anti-aging benefits of this combination of ingredients have been clinically proven. All the science of beauty, encapsulated in one daily supplement! So, ready to reveal youthful glowing skin?
Reasons to worship him
Taken daily, Beauty Focus Collagen+:

Helps maintain skin elasticity.

Provides a positive effect on skin radiance.

Helps maintain the normal structure of the skin.

Reduces the volume of wrinkles around the eyes by 17% after 8 weeks. (1)
This supplement has been clinically shown to help enhance the overall appearance, radiance, and skin texture benefits of the LumiSpa skin care system. (2 )
(1) Proksch E, Schunck M, Zague V, Segger D, Degwert J, Oesser S. (2014). Skin Pharmacol Physiol. Clinical study conducted on 114 women aged 45-65, for 8 weeks, with 2.5 g collagen hydrolyzate or placebo - n=57 for each group.

(2) Hester N, Wood S, Gray R, Kern D, O'Donnell R, Draelos Z, (2021). YOG Dermatology & Cosmetics. A nutritional supplement blend of Collagen Peptides, Lutein and Wheat Lipid Extract improves skin attributes. Randomized, placebo-controlled clinical study conducted on 60 adults (men and women) aged 40-60 years to evaluate the efficacy on the characteristics and appearance of the skin of a daily dose for 120 days of a supplement unique formula containing collagen peptides, lutein and wheat oil extract. Supplement n=40, placebo n=20. The other objectives of the study were to determine if combining the use of a facial cleansing device with taking the supplement provided additional benefits on the appearance of the skin.


How to use it?
Mix one sachet in 100ml of water. Consume soon after preparation. Take once a day.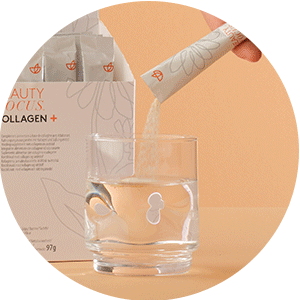 Did you know?

You can add the Collagen+ sachet to your JVi drink for maximum benefits to your skin and body!
Key ingredients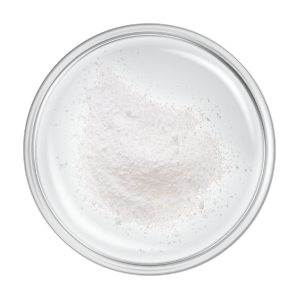 Collagen Hydrolyzate: Nu Skin collagen, including the hydrolysis phase, is subject to specific controls by our supplier to achieve the correct collagen peptide profile – or "fingerprint". » peptide – optimized for beauty. The associated benefits have been shown in improvements and a positive effect on the appearance of skin characteristics.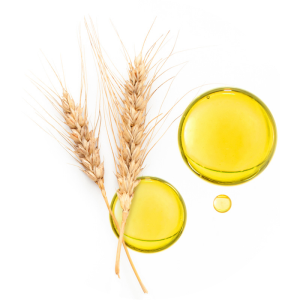 Wheat Oil Extract: It comes from the nutrient reserves of wheat, an ancient grain that has played a vital role in human history. Wheat oil extract is a plant source of ceramides, a class of lipids known for their essential role in maintaining healthy skin.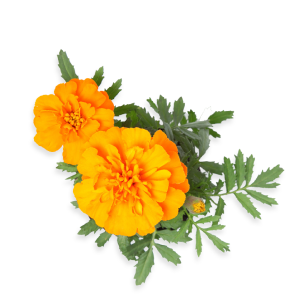 Lutein: Lutein comes from marigold flowers, whose petals are orange. Its sunset color is reflected in the shade of Beauty Focus Collagen+.
Ingredients
Collagen Hydrolyzate 2500mg/sachet, Flavor Enhancer: Citric Acid, Natural Flavouring, Lutein 5mg/sachet, Wheat Oil Extract (Triticum aestivum L.) (gluten) 70mg/sachet, Sweetener: Steviol Glycosides from Stevia, Agent anti-caking agent: Silicon dioxide, Colorant: Carotenes.
Allergy warning: Allergenic ingredients appear in bold. May contain:fish,milk, soy, celery, mustardandsulfur dioxide and sulphites.
Quantity per serving for 1 sachet:

Collagen hydrolyzate: 2500 mg
Wheat oil extract (containing ceramides): 70 mg
Lutein (from marigold flower extract): 5 mg